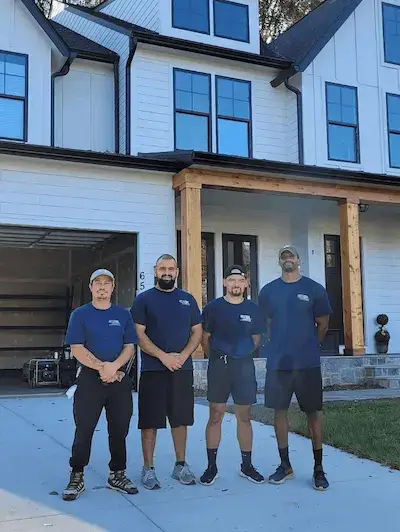 Get Professional Home Moving in Warrenton with Precision
Precision Home Movers is one of the top home moving services in Warrenton, VA. We can provide all the tools, supplies, and details to help with a successful move. We go through a thorough checklist when it comes to providing all the loading, transportation, packing, and unpacking of your belongings in both residential and commercial areas. The relocation services we provide are second-to-none.
Precision Home Movers is the most trusted company when it comes to home moving in Warrenton, VA. We are certified and have only Professionals. Contact us today to get started.
We hired Precision Home Movers for our large move and they exceeded our expectations in every way. Ara was very responsive from the initial phone call all the way through our move. He and his crew showed up early and it was evident from the moment they arrived that they all took pride in the job they do. They were all very professional, courteous and uniformed. Their moving truck was impeccably organized and they did a fantastic job wrapping every single item as well as taking great care of our home. All doorways and floors were covered as well as bannisters, stairs and other high traffic areas. They even walked behind the runners as they laid them (not in front, tracking the floors). They respected both the home we were moving out of as well as our new home. It was an unseasonably hot fall day for our move and the crew worked for 10 hours without blinking and were cordial the entire time. By the end of the day, the 7-man crew had packed up and unloaded their full truck and trailer, two U-Hauls, and unloaded two portable 16 ft. storage containers. Moving is incredibly stressful, but having Precision Home Movers caring for our belongings made the process seamless. We hired Precision Home Movers based on all the 5-star reviews. We are adding another one and recommend them to anyone in need of movers. They are polite, efficient, experienced, and competitively priced. They will exceed your expectations as well.
Ara and his team were AMAZING today!!! They were professional and efficient! We could not have asked for better service. I highly recommend them to anyone that needs to move!
Sherie Rebollo
2023-09-09
Hands down the best movers! Professional, prepared, reliable and so careful with furniture and home. Recommend 100%. Won't shop around in my next move.
I've moved many many times and this was one of the least complicated moves, were very accommodating, fast, and all the guys were very friendly and professional. For a DC metro area local move, I can't recommend more.
Super nice and super-fast! When I eventually move out, I am 100% going to have them help me move out.
Quickly and efficiently removed my sectional from my fourth floor condo and brought a new couch up. Very happy with the service. Great communication, easy scheduling, easy payment and excellent value. Will definitely be saving their number for future moving needs.
Ryan O'Donnell
2023-08-07
We used Precision Home Movers for our very large and complex move this summer and they did a phenomenal job! We moved from a 5 bedroom 3,700 square foot house, into storage for three weeks, and then into another 5 bedroom house in a different part of the state. Precision was on top of everything. They were an extremely professional and responsive company and to be able to work with mostly the same crew on both jobs was what really sets a company like this apart from the "big guys". The level of care that was shown was top notch. Not to mention, they were very efficient and were fun to work with as well. The complex, multi-part move went off without a hitch and Ara was responsive and kept me informed of everything along the way. Not only that, the prices were very competitive and reasonable. I'll gladly give Precision 5 stars and will recommend them to family and friends for their upcoming moves!
Stephen Carmona
2023-07-13
Everything about Precision Movers was far above expectations. Ara is a solid hardworking man who surrounds himself with top quality employees. Everyone was pleasant and genuinely interested in doing their jobs. My home storage was a 100 foot, unventilated farm building in the middle of July. Everything had to go to the far end of the building. I never heard a single complaint from anyone. Ara was professional and returned all communication promptly. Everything was exactly as he said it would be. My neighbors shopped price when they moved and ended up getting burned by an unscrupulous company. You can't possibly do better than using Precision Movers.
Highly highly highly recommend using these guys! They are super friendly and efficient, completing our move in only a few hours (with wrapping and carefully packing things). We have nothing but good things to say about them!
Ginny Van Alstine
2023-04-06
We had a local move and Ara, Walt and Nathan did an amazing job getting our things from our old home to our new one. They took extra care to keep the floors protected and clean, as it was a rainy day. All of our furniture was packed very carefully. I would absolutely recommend this crew for any moving needs!